john luther adams
/ writings
Silences So Deep: Music, Solitude, Alaska
Farrar, Straus & Giroux
, 2020
In the summer of 1975, the composer John Luther Adams, then a twenty-two-year-old graduate of CalArts, boarded a flight to Alaska. So began a journey into the mountains, forests, and tundra of the far north - and across distinctive mental and aural terrain - that would last for the next forty years. Silences So Deep is a memoir of a composer's life in the Alaskan wilderness and a meditation on making art in a landscape acutely threatened by climate change.
MORE INFO
BUY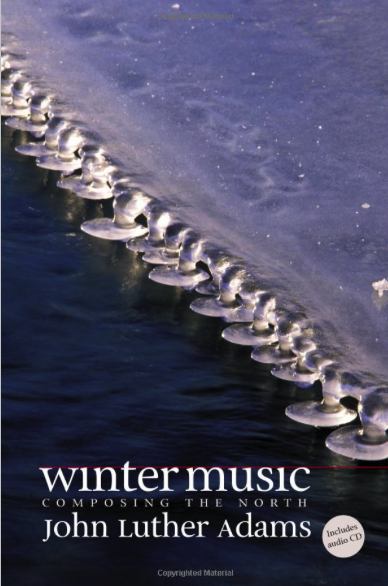 Winter Music: Composing the North
Wesleyan University Press
, 2004
Winter Music is a collection of essays, journals and other writings by John Luther Adams. The book includes a CD with three previously unrecorded works.
MORE INFO
BUY
The Place Where You Go to Listen (In Search of An Ecology of Music)
Wesleyan University Press
, 2009
Did Alaska create the music of John Luther Adams, or did the music create his Alaska? For the past thirty years, the vastness of Alaska has swept through the distant reaches of the composer's imagination and every corner of his compositions. In this new book Adams proposes an ideal of musical ecology, the philosophical foundation on which his largest, most complex musical work is based. This installation, also called The Place Where You Go to Listen, is a sound and light environment that gives voice to the cycles of sunlight and darkness, the phases of the moon, the seismic rhythms of the earth, and the dance of the aurora borealis. Adams describes this work as "a place for hearing the unheard music of the world around us." The book includes two seminal essays, the composer's journal telling the story of the day-to-day emergence of The Place, as well as musical notations, graphs and illustrations of geophysical phenomena.
MORE INFO
BUY
His music perfectly echoes the landscape he loves: impersonal, relentless, larger than human scale, yet gorgeous, a quiet chaos of colors, suffused with light. It's not a climate everyone could live in. But for those who want to bathe their ears in an aural aurora borealis while staying warm inside, it's a spiritual odyssey well worth taking. -
Kyle Gann
john luther adams
From time to time we put out a newsletter of JLA's musings on work in progress, new recordings and publications, and forthcoming performances. Enter your email address below to subscribe.
Copyright © 2023 All rights reserved.